Treasure Baskets!
Below you will find a list of ideas of objects to collect for your treasure basket; the great thing is that most of the objects can be picked up around the house or on outings to the countryside or beach!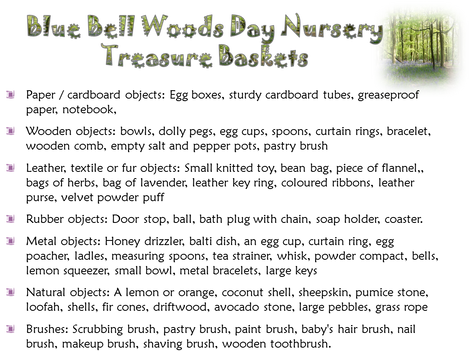 Wooden Treasure Basket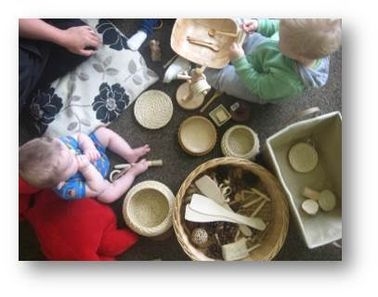 Rainbow Treasure Basket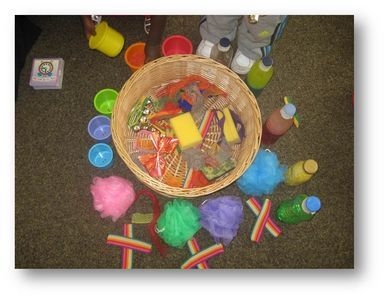 High Contrast Treasure Basket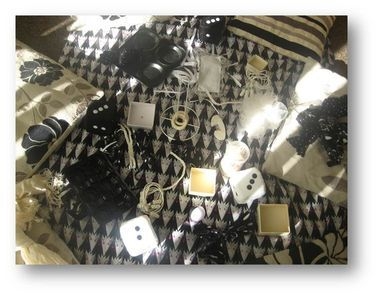 Treasure baskets are wonderful for:
Communication and language: Children may develop their vocabulary by naming the objects they're selecting or narrating their actions.
Physical development: Children develop co-ordination and motor skills in handling and moving the objects
Personal, social and emotional development: Children can make their own choices about what objects to play with and are allowed to play and explore without direction or help unless it's requested; self-confidence can be developed because there are no right or wrong ways to play with the objects
Literacy: Children may use the objects in storytelling; they may recognise common sounds in the names of objects and sort objects on this basis
Mathematics: Children may use the objects to explore number, size, shape, etc; they may count objects; they may sort objects by shape or arrange them by size; they may make comparisons with lighter/heavier objects
Understanding the world: Children can explore the properties of different objects; they may make observations about natural items, objects that come from living things, etc.
Expressive arts and design: Children develop their creativity while exploring the treasure basket; they may explore different colours and textures among the objects; they may use the objects in imaginative ways such as in role play or as improvised musical instruments
Metallic Treasure Basket