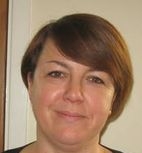 Anita Love ~ SENDCO
Blue Bell Woods aims to provide inclusive quality care and education provision to all children regardless of their abilities and learning differences. We will work with a child's parents/carers and the specific workers who support the child, in ensuring where possible that the child's needs are best met.
At Blue Bell Woods, equal opportunity and inclusion is at the heart of all that we do. We are committed to continuous improvement and evaluating what we do to help us provide the best possible care. We challenge ourselves to ask questions, seek solutions and embrace new ideas. We are actively committed to valuing individuals and to inclusion.
We aim to foster a positive attitude and approach throughout everyday learning activities and experiences through:
Universal Provision – consistent strategies used by all staff members
Use of appropriate resources
Supporting children for whom English is an additional language
Challenging bias and discrimination
Providing clear direction for staff and children
Developing and nurturing strong relationships with parents, carers and outside agencies including other childcare settings
A nominated SENDCO (Special Educational Needs and Disability Co-Ordinator) who will attend appropriate training
Requesting additional relevant training when it is identified  Regularly reviewing and evaluating our work
Regular meetings and updates to ensure continuity of care and objectives are met and cascaded to all staff
On application for a place at Blue Bell Woods Nursery, parents/carers should inform the key person that their child has an identified disability or learning difference. This information should be recorded on the 'All about me' form at enrolment. The SENDCO and parents/carers will then arrange a time to meet to discuss how best we can plan to support the child and begin to make links with the relevant involved external services, e.g. Speech and Language Therapy. This information would then be used to provide starting points for the development of an appropriate curriculum for the child.
The observation and assessment of all children is an integral aspect of our work in relation to planning for children's development and learning. Where a concern is raised about a child's learning and development and they are identified by parents/carers, a specialist agency or through the observations and assessment of staff as having special educational needs, Blue Bell Woods will follow the Department for Education (DfE) 'Special Educational Needs and Disability Code of Practice: 0 to 25 Years' on the identification and assessment of Special Educational Needs, along with The Equality Act 2010, Children and Families Act 2014 and the Statutory Framework for the Early Years Foundation Stage (EYFS).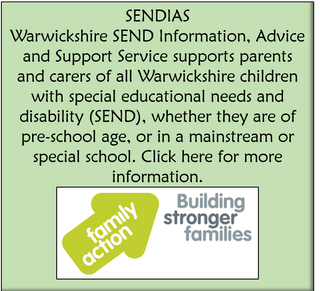 Please visit the Warwickshire Local Offer page for details of the Warwickshire SEND Information, Advice and Support Service.
A child is identified as having a special educational need and/or disability 'where their learning difficulty or disability calls for special educational provision, namely provision different from, or additional to, that normally available to children of the same age' (SEND Code of Practice 6.15).
Children may be identified as having difficulties in one or more of the four broad areas of need:
Communication and Interaction
Cognition and Learning
Social, Emotional and mental health difficulties
Sensory and/or physical needs
Supporting children for whom there are concerns relating to learning and development:
1. If a Key Person becomes concerned about a child's learning and development they should discuss their concerns with the SENDCO.
2. The SENDCO and Key Person will undertake further observations (Individual Education Plan/Targets) with permission and support from parents/carers to inform planning and monitor progress. This will take place over a 6 to 8 week period and will use the 'assess, plan, do, review' cycle:
Assess: children's progress is assessed against the EYFS outcomes, particularly the prime areas (personal, social and emotional development, communication and language and physical development) and targets will be set and strategies suggested to support the child to achieve these targets. The strengths and needs of the child will be clearly identified. Here the child's voice is taken into consideration and what they are interested in.
Plan: based on the results of the assessments, outcomes will be identified and agreed with parents/carers, SENDCO and Key Persons.
Do: SENDCO and Key persons will implement support as planned and continue with observations and individual activities to monitor the child's response to these.
Review: Parents/carers and any other agencies involved will be asked to discuss how effective the support has been. Observations and planned outcomes will be reviewed and any other possible specialist help considered. The 'Assess, plan, do, review' process can be repeated a number of times and progress reviewed and monitored closely with parents. Support would gradually lessen as the child continues to progress.
3. If the SENDCO considers it appropriate to trigger further intervention, a meeting will be arranged with parents/carers. The meeting will be conducted with sensitivity and parents/carers will be fully informed of their rights and the support available.
4. With parental permission, a referral will be made to an Integrated Disability Service Specialist (IDS) in the Pre-School Team using the Single Point of Access Form (SPA) with evidence of what we have provided that is additional to/different from other children. The SPA form must be discussed with and signed by the child's parents/carers and a copy of the Privacy Statement provided to them.
5. Progress will continue to be monitored and reviewed along with the IDS Specialist Pre-School Team.
6. For a very small number of children, despite careful intervention, progress may remain delayed and a request made with parental permission and support from the involved agencies for a needs assessment and Education, Health and Care Plan (EHCP).